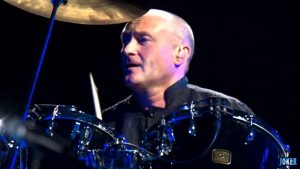 Singer Phil Collins has confirmed his current tour with Genesis will be his last.
Collins – on the road with Tony Banks and Mike Rutherford – has cited his health as the reason.
He said:
"This English and American tour, that will be enough for me."
Banks added:
"I think it depends a little bit how it goes, how Phil stands up to it all.
"Also, how the audience receive it, and how we all feel about it."
Earlier Collins admitted he had trouble playing the drums.
He said:
"I'd love to play, but you know, I mean, I can barely hold a stick with this hand.
"So, there are certain physical things that get in the way."
Collins has had health problems since 2007 when he injured his spinal cord.
His son Nicholas will be taking over the drum kit while Collins will stick with vocals.
Collins said:
"We're all men of our age.
"I don't know if I want to go out on the road anymore."
The reunion tour started in Birmingham, and is scheduled to finish in Pittsburgh, Pennsylvania in December.