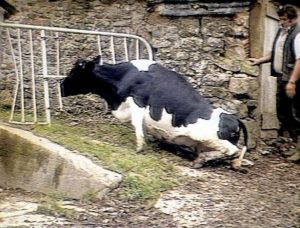 Library picture
A case of BSE – known as "mad cow disease" – has been found on a farm in Somerset.
The Animal and Plant Health Agency (APHA) has started an inquiry to figure out the source.
APHA was quick to emphasise there was no risk to food safety or beef exports.
The isolated incident of Bovine Spongiform Encephalopathy (BSE) was confirmed yesterday (Friday).
The animal was dead and the body taken from the farm.
Christine Middlemiss, Britain's chief veterinary officer, said:
"We recognise this will be a traumatic time for the farmer and we are on hand to offer advice through this difficult period
"The UK's overall risk status for BSE remains at 'controlled' and there is no risk to food safety or public health."
Restrictions on movement are in force at the farm.
A Food Standards Agency spokesperson said there were "strict controls in place" to protect the public from the risk of the disease.