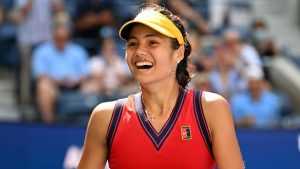 Teenage tennis sensation Emma Raducanu will ask her mum and dad what to do with her £1.8 million winnings from the US Open.
Asked how she'd spend the 18-year-old money she replied:
"I will just leave that to my parents.
"They can take that for me.
"I haven't done anything or bought anything yet.
"I know tennis is an expensive sport.
"From everything, travel and expenses.
"It'll probably go towards that.
"I don't really think of the money side of that.
"I know there are a lot of taxes and expenses."
Raducanu — the first qualifier ever to win a grand slam — is back home in Bromley, Kent after seven weeks away.
She said:
"My mum made some really good homemade dumplings but there was nothing crazy or over the top."
The tennis star also re-watched her US Open final victory for the first time.
She said:
"I tried to relive a couple of the moments and remember how it felt, so it is sinking in a little more.
"It's funny because when I was watching it, it almost feels like that's not me that was playing and pulling off some of those shots, it feels like it's someone else.
"I knew exactly what was going to happen but still it's a very tense moment and, re-watching it, I was really proud of how I came through some tough moments and also the [medical] timeout at the end – I didn't realise how stressful that was on TV compared to live."