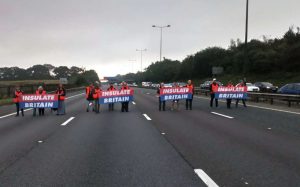 Climate activists have blocked off parts of the M25 for the second time within days.
Insulate Britain – an off-shoot of Extinction Rebellion – stopped traffic on two places.
They have sat down at Junction 23 and Junction 8 on Britain's busiest motorway.
Rush hour traffic was suddenly stopped by the protest leading to jams.
There were angry exchanges between frustrated drivers and the protestors.
So far, the police have made 15 arrests.
Breaking: Climate Protesters Insulate Britain are BACK blockading the M25. This is the same group who were arrested on Monday, now stopping traffic at J23. Screams of abuse & "we'll lose our jobs" from stuck drivers. @LBC pic.twitter.com/zjhN0jatBK

— Rachael Venables (@rachaelvenables) September 15, 2021
Insulate Britain – which wants the Government to insulate more homes – said:
"We demand credible action now.
"Proper jobs for hundreds of thousands of people to start the first real step – to insulate all the homes of this country – which pound for pound gives us the biggest reduction in carbon emissions.
"It is a total no-brainer and yet this Government refuses to get on with the job.
"This is criminal negligence."
Surrey Police said in a statement:
"A number of protesters from Insulate Britain and Extinction Rebellion are at the two locations and appropriate diversions are being set up with the help of partner agencies."
On Monday demonstrators brought mayhem to the M25.
Ten of thousands of drivers were caught up in the stoppage.
Again, tempers flared between the protest group and angry motorists.
Scores of arrests were made.