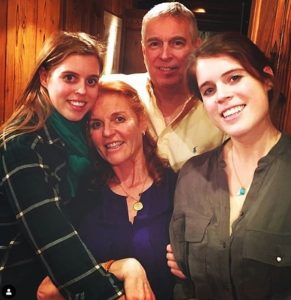 Prince Andrew and ex-wife Sarah and their daughters
Prince Andrew and his former wife Sarah Ferguson could remarry, sources claim.
The couple split in 1992 and divorced four years later.
However, the couple have always kept a close bond.
They have two daughters.
Ms Ferguson is staying with Andrew at the Queen's 50,000 acres Balmoral estate.
It's said he fled to Scotland to avoid being served legal papers claiming he sexually assaulted a teenage girl.
The Prince strongly denies the allegations.
A source told Vanity Fair magazine Andrew and Fergie are "closer than ever before".
The source added:
"They still love and care for each other a great deal and have been living together during the pandemic.
"It has rekindled something, and I can see a second wedding happening if it all goes Andrew's way."
Another Royal insider said Fergie's priority was "supporting Andrew' during this difficult time."
Last week the Duchess said:
"Divorce is one thing, but my heart is my oath."
A beleaguered Prince Andrew faces a tough time as he fights the sex claims.
The caveat on remarrying centres on him being able to "move on" when the dispute has been settled.