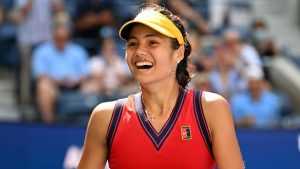 The Queen has sent a personal message to teenage tennis sensation Emma Raducanu after she won the US Open.
The Queen congratulated the straight sets winner on her "remarkable achievement".
She said:
"I send my congratulations to you on your success in winning the United States Open Tennis Championships.
"It is a remarkable achievement at such a young age and is testament to your hard work and dedication.
"I have no doubt your outstanding performance, and that of your opponent Leylah Fernandez, will inspire the next generation of tennis players.
"I send my warmest good wishes to you and your many supporters."
Prime Minister Boris Johnson wrote:
"What a sensational match! Huge congratulations to Emma Raducanu.
"You showed extraordinary skill, poise and guts and we are all hugely proud of you."
Emma – who only finished school three months ago – never dropped a set during the US Open or faced a set breakpoint.
She is also the first player – man or woman – to win a US Open as someone who had to qualify.
Emma picked up a £1.8 million pay cheque and shot up the world rankings from 150th to 23rd.
Virginia Wade was the last British woman to win a Grand Slam singles title at Wimbledon in 1977.
Ms Wade was in the crowd to see Emma lift the trophy.