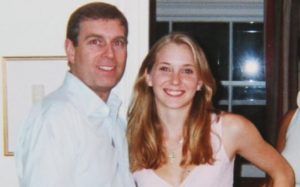 Prince Andrew and accuser Victoria Giuffre (nee Roberts)
A beleaguered Prince Andrew – dogged by an alleged sex scandal – has gone to Balmoral.
It's reported he's left his Windsor home to avoid being served court papers.
The Duke of York, 61, and his former wife Sarah Ferguson, were seen to be leaving Royal Lodge for the 500 miles' trip to the Scottish retreat.
The Queen is currently on holiday at the castle on her 50,000 acres' estate.
A source told The Sun:
"Andrew was going stir-crazy inside Royal Lodge for the past few weeks.
"He wasn't going horse riding and couldn't step outside because of attempts to serve him with the legal papers.
"He knows he is far safer up at Balmoral on the Queen's estate.
"Andrew is always described as the Queen's favourite son, but she is meant to be on holiday at Balmoral.
"With Andrew and everything that is happening with Charles and the investigation into cash for honours she must be wondering when she will get any peace and quiet."
Andrew has been caught up in the Jeffrey Epstein sex scandal in America.
The Duke has been accused by Virginia Giuffre (nee Roberts) of "rape in the first degree".
He strenuously denies the allegations.
He is yet to respond to the lawsuit taken out by Ms Giuffre's lawyers.
The civil action is due to be heard via a telephone conference in New York on September 13th.