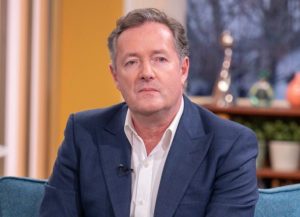 Television watchdog Ofcom has rejected a record 58,000 complaints about Piers Morgan's criticism of Meghan Markle.
The Duchess of Sussex herself filed a complaint about the ITV presenter.
The Good Morning Britain host told viewers he did not believe parts of the Duchess' interview with Oprah Winfrey.
He later walked off set and quit after an on-air falling out with weather presenter Alex Beresford.
Ofcom said curbing Morgan's views would be a "chilling restriction" on free expression.
However, Morgan, 56, was admonished for his "apparent disregard" for the subject of suicide.
A delighted Morgan described the ruling as "a resounding victory for free speech and a resounding defeat for Princess Pinocchio."
He added: "Ofcom has emphatically endorsed my right not to believe what the Duke and Duchess of Sussex were saying.
"I wasn't really sure why I lost [my job] in the first place".
Ofcom said its decision was "finely balanced".
It said ITV had "provided adequate protection to viewers from potentially harmful and highly offensive statements about mental health and suicide".
Ofcom ruled:
"Consistent with freedom of expression, Mr Morgan was entitled to say he disbelieved the Duke and Duchess of Sussex's allegations and to hold and express strong views that rigorously challenged their account.
"The [Ofcom broadcasting] code allows for individuals to express strongly held and robustly argued views, including those that are potentially harmful or highly offensive, and for broadcasters to include these in their programming.
"The restriction of such views would, in our view, be an unwarranted and chilling restriction on freedom of expression both of the broadcaster and the audience.
"We were particularly concerned about Mr Morgan's approach to such an important and serious issue and his apparent disregard for the seriousness of anyone expressing suicidal thoughts."
The 57,793 complaints are the highest in Ofcom's 18-year history.