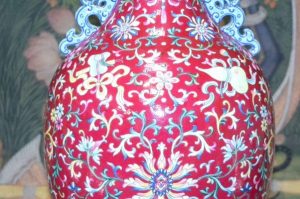 A rare Chinese vase given as payment for a debt 40 years ago has sold for £550,000 at auction.
The Qing famille rose vase was handed to a man who ran a demolition company in London.
When he died the the twin-handled ruby glazed vase was passed on to his son who stored it away.
It was estimated to make £15,000 at auction.
But a bidding war between seven buyers saw the price shoot through the half million mark.
The vase has the mark of the Qianlong Emperor on it, which would date it to between 1735 to 1796.
It was possibly looted from the Imperial Palace in China during the Boxer rebellion in 1899 to 1901.
It was sold by Hannam's Auctioneers.
Harry Hannam said the family had "no idea" how much the Qing vase would be worth and was ecstatic by the sale.
He added: "The vase was given in lieu of a bad debt to the vendor's father who ran a demolition company in the 1980s.
"He took this vase along with a two-inch jade Buddha as payment, presumably to a client who couldn't pay their bill.
"The family were from a very moderate upbringing and were working class.
"They had a two-bed semi-detached home near Bromley.
"The man's wife inherited them upon his death and when she died in the early 2000s, they went to their son.
"Since his mother died, I believe the vase has been stored away and has not been on display anywhere.
"What's lovely is that he will never have to worry again during his retirement."