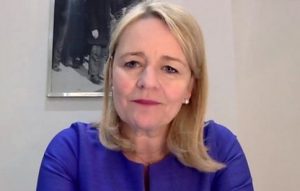 Sharon Graham has been elected the first woman leader of the Unite trade union.
Ms Graham won 46,696 votes to be elected General Secretary.
Favourite candidate Steve Turner was second with 41,833 votes.
Ms Graham will replace Len McCluskey who led Unite for ten years.
Mr McCluskey – a strong critic of Labour leader Sir Keir Starmer – had supported Mr Turner as his successor.
Unite is a major contributor to Labour's coffers.
However, Ms Graham has warned there will be there will be "no blank cheque" for Labour if she won.