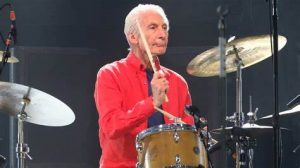 The Rolling Stones drummer Charlie Watts has died, just weeks after his 80th birthday.
He'd been with the band since 1963.
Watts – who always wanted to be a jazz drummer – was pivotal in the musical development of the band.
He was also an essential part of bringing some semblance of order to his more boisterous bandmates.
Watts' drumming was never flash – no "Keith Moon" manic kit busting solos.
He was measured in his sophisticated style and always inventive; the cow bell opening to Honky Tonk Women.
Watts was a dapper dresser with a penchant for Savile Row suits.
He loved art, jazz, and cricket.
Band members Sir Mick Jagger and Keith Richards have shared poignant tributes to Watts.
Both posted pictures with no captions.
Their tributes came as the rest of the rock world lined up to honour Watts.
The Beatles drummer Ringo Starr posted on Twitter:
"God bless Charlie Watts, we're going to miss you man, peace and love to the family, Ringo."
Sir Paul McCartney posted a video.
Paul on Charlie Watts ❤️ pic.twitter.com/rn2elK6cFE

— Paul McCartney (@PaulMcCartney) August 24, 2021
He said: "So sad to hear about Charlie Watts, Stones drummer, dying.
"He was a lovely guy.
"I knew he was ill, but I didn't know he was this ill, so lots of love to his family, his wife and kids and his extended family, and condolences to the Stones, it'll be a huge blow to them because Charlie was a rock, and a fantastic drummer, steady as a rock.
"Love you Charlie, I've always loved you, beautiful man, and great condolences and sympathies to his family."
Watts died in a London hospital surrounded by his family.
The statement read:
"It is with immense sadness that we announce the death of our beloved Charlie Watts.
"He passed away peacefully in a London hospital earlier on Tuesday surrounded by his family.
"Charlie was a cherished husband, father and grandfather and also, as a member of The Rolling Stones, one of the greatest drummers of his generation.
"We kindly request that the privacy of his family, band members and close friends is respected at this difficult time.''
Kenney Jones, drummer with The Small Faces said:
"The reason he was such a great drummer was because he had a great feeling about himself and for others.
"It's all about feeling, it's all about emotion – you play your emotion, you play the way you feel.
"And Charlie being the nice guy that he was, he had to convert everyone's emotions and feelings for the rest of the band, and deliver that at exactly the right tempo, the right place to put the beat."
"He is the heart and soul of The Rolling Stones. His drumming is as important as Mick Jagger's voice, as Keith Richards' guitar playing, as Ronnie Wood's guitar playing."