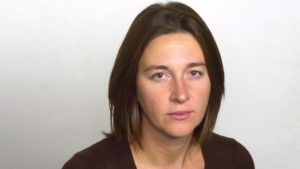 Picture: BBC
A BBC reporter working in Moscow has been ordered to leave Russia by the end of the month.
Moscow has refused to extend the accreditation to work for Sarah Rainsford.
The move shows a further worsening of relationships between Moscow and London.
The Rossiya-24 TV channel said that Ms Rainsford would be going home in what it called "a symbolic deportation."
Diplomats see the decision as an expulsion.
Rossiya-24 added the move was in retaliation for London not renewing or issuing visas to Russian journalists working in Britain.
It said the Russian state-backed channel RT and the state news outlet Sputnik could not have accreditation to cover events in Britain.
Rossiya 24 said: "Sarah Rainsford is going home.
"According to our experts, this correspondent of the Moscow's BBC bureau will not have her visa extended because Britain, in the media sphere, has crossed all our red lines.
"The expulsion of Sarah Rainsford is our symmetrical response."
Neither the BBC nor Ms Rainsford have commented on the decision.