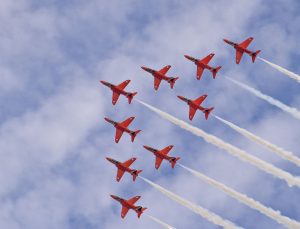 The Red Arrows are going green.
The jets' patriotic red, white, and blue smoke trails are being replaced with a green hue.
The Ministry of Defence (MOD) is looking to replace the diesel solvents that colour the vapour.
Defence chiefs wish to bring in an "environmentally friendly coloured smoke dye and a diesel solvent alternative".
The aerobatic team of Hawk T1 jets is based at RAF Scampton.
An RAF source said: "As global ambassadors for Britain and the RAF, the Red Arrows look for excellence in all they do.
"For them to consider use environmentally friendly smoke dye, shows they are continuing to lead the field.
"Always red, white and blue, the addition of green credentials is a great thing."
Air Chief Marshal Sir Mike Wigston, the Chief of the Air Staff, said:
"I want to be the first net-zero air force by 2040' – this looks like one small part of that drive."