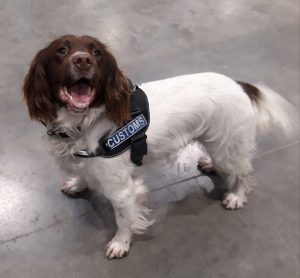 Sniffer dog Sam
Drug sniffer dogs Sam and Flynn have helped find £10 million of heroin hidden inside machinery.
The dogs and a team of Revenue officers found the Class A drug at Rosslare Europort, Ireland.
More than 88 kgs were discovered after a lorry and low loader from Europe were stopped.
The drugs were hidden inside equipment on the low loader.
The drugs team was acting on intelligence.
A mobile x-ray was also used in the operation.
Investigations are continuing in Ireland and international law enforcement teams.