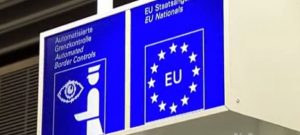 British travellers heading to Europe will be hit with a €7 entry fee – about £6.20.
The figure comes from EU proposals to introduce visa-style costs and security forms.
The EU plans to bring in the European Travel Information and Authorisation System (ETIAS) before the end of next year.
It will affect people going to the EU from visa-exempt countries – like the UK.
The British Government, however, has no plans to introduce a reciprocal charge.
Michelle Donelan, junior education minister, said:
"I believe we have no plans to do that.
"We have our visa plans already outlined."
Under the new EU system passengers will have to complete an online application form before travelling.
A spokesperson for the Commission said:
"Visa-exempt non-EU nationals will only need a few minutes to fill in an online application which in a vast majority of cases – expected to be over 95 per cent – will result in automatic approval.
"The process will be simple, fast and affordable: the ETIAS authorisation will cost €7, which will be a one-off fee, and will be valid for three years and for multiple entries."