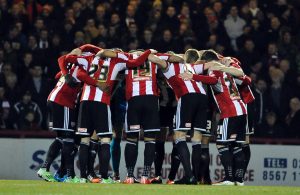 Brentford FC will take the knee ahead of their first game as a Premier League team.
The London club confirmed it will make the anti-racism gesture after a meeting of the league's 20 team captains.
The act before the start of each game has caused friction between fans and players.
Brentford, who were promoted last season, stopped taking the knee in February.
The club said it was no longer having an impact.
However, a joint statement issued by the Premier League on behalf of all its players said:
"We feel now, more than ever, it is important for us to continue to take the knee as a symbol of our unity against all forms of racism.
"We remain resolutely committed to our singular objective of eradicating racial prejudice wherever it exists, to bring about a global society of inclusion, respect and equal opportunities for all."
Richard Masters, Premier League chief executive, said:
"The Premier League, our clubs, players and match officials have a long-standing commitment to tackle racism and all forms of discrimination.
"Following our club captains' meeting, that collective commitment was reaffirmed, and the Premier League will continue to support the players' strong voice on this important issue."