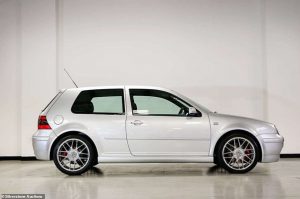 Picyure: Silverstone Auctions
A 2002 made VW Golf GTI with eight miles on the clock has been sold for £38,250 at auction.
The model was one of 1,800 produced for the 25th anniversary of the Mk4.
The car sold for £10,000 more than its estimate.
Over three minutes of frantic bidding saw the car knocked down at Silverstone Auctions.
Even taking into account 19 years of inflation, the first owner is walking away with a profit of £10,446.
Gary Dunne, of Silverstone Auctions, said:
"We are thrilled with the result.
"The car was simply unrepeatable with delivery mileage, and in the run up to the auction day it had a substantial amount of interest."
The car cost £18,660 new in 2002.
John Mayhead, of classic-car valuations company Hagerty, said:
"The Golf is a really special car and the 25th Anniversary models are already becoming collectible.
"Normal' mileage examples are selling for up to £9,000.
"This one though is effectively a new car."