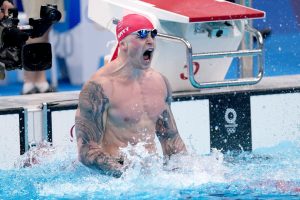 Britain has won three gold medals in less than five hours in the Tokyo Olympics.
Swimmer Adam Peaty started the gold rush with victory in the 100 metres breaststroke.
Peaty, 26, kept his Olympic title – the first British swimmer to do so.
He hasn't lost a race since 2014.
He tweeted afterwards: "For my country, my son and my family.
"For those who stayed up through the night to watch me.
"For all those people who need a bit of light.
"You can get through this."
Three hours and 40 minutes later divers Tom Daley and partner Matty Lee, 23, won the synchronised 10 metres platform.
Daley, 27, burst into tears when he realised their perfect final dive was enough to see off nearest challengers China.
Daley had won bronze medals at previous games in London and Rio.
He said:
"This means an incredible amount.
"To be an Olympic champion after four attempts at it feels extremely special."
Less than half an hour later Tom Piddock, 21, from Leeds, won the men's mountain bike race.
Pidcock said:
"The Olympics just transcends any sport.
"You compete and represent your country and everyone in your country is behind you, no matter what sports they like.
"It's just national pride, it's unbelievable."
Great Britain is now fourth in the medals table behind China, America, and Japan.