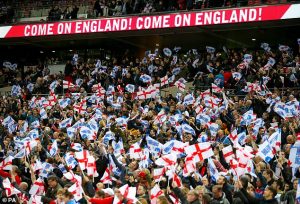 Premier League fans could be barred from attending games unless they have been doubled jabbed.
The Telegraph reveals ministers are considering the proposal ahead of the start of a new season.
All events where more than 20,000 spectators are present would be hit by the embargo.
The government is looking to turn Covid-19 into a "manageable menace".
A social media campaign is also lined up to boost vaccinations for people aged between 18 and 30.
The Telegraph reports Premier League clubs are keen to become "early adopters" of the vaccine passport to keep grounds fully filled.
The newspaper says should clubs agree to voluntarily adopt vaccination status as a requirement of entry, it is expected that ministers will refrain from pushing ahead with making it compulsory.
However, sources stressed that "nothing is off the table".