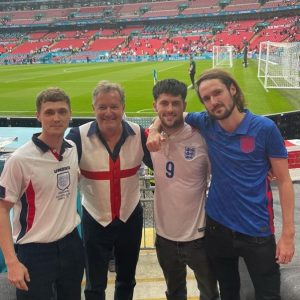 Piers Morgan caught Covid-19 after going to the Euro 2020 final at Wembley.
The television presenter believes he was infected with the Delta variant when hundreds of ticketless fans stormed the ground.
Morgan, 56, has received two doses of the AstraZeneca vaccine.
Two days after the game against Italy he began to feel the symptoms of the illness – a fever, chills, coughing and sneezing.
He told the Mail on Sunday:
"My confidence that the event would be 'covid safe' had disintegrated.
"It was turning into an unregulated free-for-all.
"My voice now sounds like Barry White, though I couldn't feel less like a Walrus of Love."
"This is definitely the roughest I've felt from any illness in my adult life, BUT, as I slowly come out the other side, coughing and spluttering."
"I'm still here – unlike so many millions around the world who've lost their lives to Covid in this pandemic.
"For that, I owe a heartfelt debt of thanks to the brilliant scientists up in Oxford who created the AstraZeneca vaccine with such astonishing speed."
Wembley officials had assured fans attending the final that only fully-vaccinated spectators – or those who had negative tests –  would be allowed into the stadium.