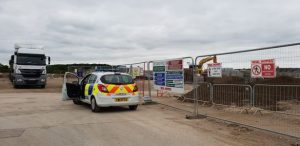 A motorway has been closed and homes evacuated after an unexploded 500 lbs WWII bomb was unearthed.
The bomb – found by building workers in Goole, Yorkshire – will be detonated by a controlled blast.
The M62 between junctions 25 and 37 has been closed.
A no-fly zone has been imposed and eight nearby houses have been evacuated.
Humberside Police said:
"Colleagues from the Explosive Ordnance Disposal team, who have been onsite have now confirmed that the device is live and are making plans to safely detonate the bomb within the next 24 hours.
"All persons in the immediate vicinity have been evacuated as a precaution."
It is hoped the explosion will go ahead on Saturday.