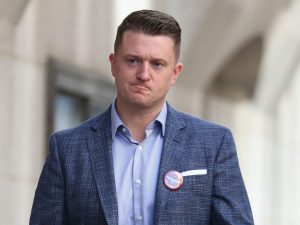 Tommy Robinson – the founder of the English Defence League – has been ordered by a court to pay £100,000 libel damages to a Syrian schoolboy.
The anti-Islam activist is also said to face estimated legal costs of £500,000
Robinson – real name Stephen Yaxley-Lennon – posted two Facebook videos in response to a viral clip of Jamal Hijazi being attacked.
Mr Hijazi was filmed being attacked in the playground at Almondbury School in Huddersfield.
Yaxley-Lennon posted to Facebook claims the teenager was "not innocent and he violently attacks young English girls in his school".
He also claimed Mr Hijazi beat a girl "black and blue" and he'd threatened to stab another schoolboy.
Mr Hijazi denied all the allegations.
However, Yaxley-Lennon's comments were viewed online more than one million times.
The judge said:
"As was entirely predictable, the claimant then became the target of abuse which ultimately led to him and his family having to leave their home, and the claimant to have to abandon his education.
"The defendant is responsible for this harm, some of the scars of which, particularly the impact on the claimant's education, are likely to last for many years, if not a lifetime."
The judge said Mr Yaxley-Lennon's defence that the "very serious" allegations were substantially true had not been proved.
He said Yaxley-Lennon had used language "calculated to inflame the situation".
The judge added:
"The defendant's contribution to this media frenzy was a deliberate effort to portray the claimant as being, far from an innocent victim, but in fact a violent aggressor."
Jamal Hijazi's lawyers welcomed the judgement and praised Mr Hijazi's "courage" in pursuing the claim.
Francesca Flood, from Burlingtons Legal, said:
"Jamal and his family now wish to put this matter behind them in order that they can get on with their lives.
"They do, however, wish to extend their gratitude to the Great British public for their support and generosity, without which this legal action would not have been possible."