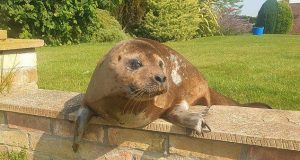 A seal has been found sunbathing in a pensioner's garden more than 20 miles from the coast.
The grey seal – already known to the police for earlier escapades – was found basking on a wall.
Only weeks ago, the seal – called Dandy Dinmont – "joined" a woman on her paddleboard during a lesson on the River Witham at Boston, Lincolnshire.
This time Dandy has meandered 20 inshore the village of Billinghay.
Anne Page, 72, found Dandy sunning herself in her garden.
She said:
"I went out to water my plants in the back garden just after 7.30am and straight away I saw the seal on my patio.
"We were just staring face to face.
"I put down my watering can, went back inside and then went out again as I couldn't quite believe my eyes.
"We must be at least 20 or 30 miles from the sea, so it was a real surprise.
"I had cut down the reeds at the end of my garden which allowed her to get up.
"She must have swum all the way up the River Witham and then into the River Skirth which is another four miles to us."
Mrs Page's son Rob called the police.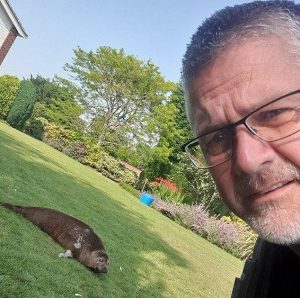 Picture: PC Green and Dandy
PC Martin Green drove to the garden, assessed the problem, and promptly alerted an RSPCA inspector.
The two men manoeuvred Dandy into a dog kennel.
PC Green said:
"I would say she weighed 60 to 70kg.
"It was not easy to get her into a kennel in the back of the RSPCA van."
Lincolnshire's East Coast has a number of seal colonies.