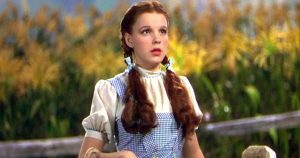 A missing blue gingham dress worn by Judy Garland in The Wizard of Oz has found 50 years later in a bin bag.
The dress – one of five used in the film – was discovered by chance.
It was tucked away in a room at Catholic University in Washington.
The dress – as worn by Dorothy Gale in the 1939 film – had been gifted to the former head of drama, Father Gilbert Hartke in 1972.
A year later it had gone missing.
Lecturer Matt Ripa found the bin bag in an office during renovation work.
He said:
"I opened the bag and inside was a shoe box – and inside the shoe box was the dress.
"I couldn't believe it!"
Despite being "lost" it was always rumoured the dress was someone on campus.
Matt added:
"I assumed it was a tall tale, of which many exist for Father Hartke.
"But Father Hartke turned out to be telling the truth with this story after all.
"Our building is in the process of renovations and upgrades, so I was clearing out my office to prepare.
"I noticed on top of the faculty mailboxes a trash bag and asked my co-worker to hand it to me.
"On the trash bag was a note for our former chair stating that he had found 'this' in his office and that he must have moved in when he moved out of the chair's office.
"I was curious what was inside and opened the trash bag.
"I have found many interesting things in the Hartke during my time at CUA, but I think this one takes the cake."
A statement from the university said:
"It can now be preserved in proper storage in a temperature- and humidity-controlled environment so that hopefully, for many more years, it can be a source of 'hope, strength, and courage' for Catholic University students."