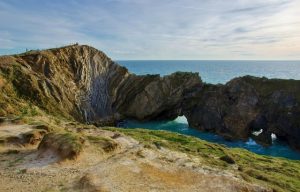 Library: Stair Hole, Lulworth Cove
A holidaymaker has died while climbing a 200 ft cliff in Dorset with his family.
The man – said to be in his 40s – slipped while part-way up Stair Hole at Lulworth Cove.
An air-ambulance, coastguards, lifeboat crew and police were at the scene.
The man's family could only look on as medical teams vainly tried to save his life.
A spokeswoman for Dorset Police said:
"Dorset Police received a report at around 6.30pm on Sunday that a man had fallen off rocks at Stair Hole near to Lulworth Cove in the Purbeck area.
"Officers attended the incident together with other emergency services.
"Very sadly, the man was pronounced dead at the scene.
"His family has been informed and the coroner has been notified.
"There were no suspicious circumstances."