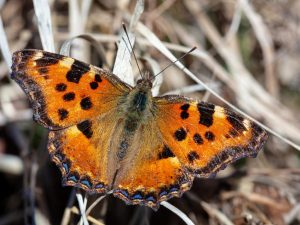 A giant butterfly though extinct for more than 60 years has been found in Dorset.
The Large Tortoiseshell disappeared from woodlands in the 60s through the rampant Dutch Elm disease.
It was also hit by parasitic flies.
However, two groups of larvae have been discovered on elm trees by conservationists.
It is hoped more than 24 butterflies will emerge within weeks.
The Large Tortoiseshell measures three inches across its wings.