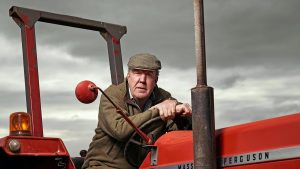 A planning application by Jeremy Clarkson to revamp his Diddly Squat Farm shop has been hit with objections from locals.
Some have demanded the premises should be closed.
For weeks the shop, tucked away in the Cotswolds, has seen queues of cars jamming the thin rural roads.
The closure call comes days after Amazon said it was not making a second series of the popular show Clarkson's Farm.
Clarkson, 61, had urged fans to lobby television bosses for another run.
When asked if Amazon would be making a second series, he tweeted:
"No. We aren't. Write to Amazon, it's their decision."
Clarkson has applied for permission to alter the external doors on the farm shop in Chadlington.
But locals aren't impressed given the amount of sight-seeing traffic chaos the show has brought to the village.
They claim they are caught up in two-hour jams as fans drive to the shop.
Chadlington parish councillor Hilary Moore said the congestion had become "ridiculous".
She added: "When an application was submitted you were made well aware of how unsuitable the site was, now our roads are clogged with traffic and the whole area is becoming a danger zone with fast cars showing off their speed on narrow lanes, traffic queuing for a mile or so, blocking roads and compromising access for emergency vehicles.
"The farm shop should be closed down immediately, and no more permission granted to further developments."