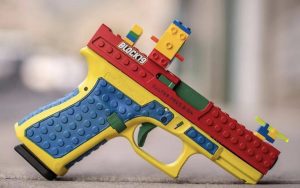 A gun maker has been forced to stop selling a kit that turns a Glock pistol into a Lego toy.
The click on casing makes the automatic weapon look just like a plaything.
Lego has made the American manufacturer stop selling the "Block19" for £500.
The Danish toy company issued a "cease-and desist".
The maker, Culper Precision in Utah, immediately stopped selling the gun.
Fewer than 20 were sold.
When Culper marketed the "Block19" it said:
"We wanted the second amendment to simply be too painful to tread on, so there was only one logical solution.
"Here's one of those childhood dreams coming to life, the Block19 prototype.
"Yes, you can actually build Legos onto it.
"We superglued it all together and surprisingly it survived a little over 1,500 rounds in full auto."
It said the aim was to show that shooting sports were "SUPER FUN!"
A Lego spokeswoman confirmed that the manufacturer had agreed to stop selling the guns.