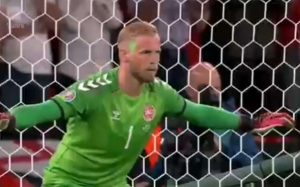 Credit: ITV
A green laser beam was shone in the face of Denmark's goalkeeper Kasper Schmeichel as England took a match winning penalty.
The great Dane initially saved Harry Kane's spot kick.
But the England captain quickly followed up on the rebound and buried the ball for a 2-1 semi-final win.
Television footage later revealed a laser light was directed at Schmeichel at the vital moment.
It's not known if the keeper was aware of the interference.
England will now play Italy in the Euro 2020 final on Sunday.
It's the first time England have been in a final since 1966.
Then they beat Germany at Wembley to lift the Jules Rimet World Cup.