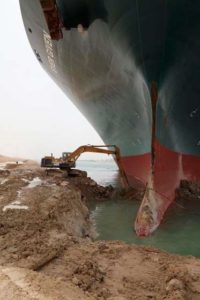 The container ship Ever Given has been allowed to leave the Suez Canal after months of wrangling over compensation.
The vessel blocked the waterway for six days earlier this year.
The delay was costing world trade an estimated £6 billion a day.
The Ever Given was finally freed after an international salvage operation costing millions of pounds.
Now, the ship's owner Shoei Kisen Kaisha Ltd has reached a settlement with the canal authorities after three months of talks.
It was signed in a ceremony in the Suez Canal city of Ismailia before the Ever Given sailed into the Mediterranean.