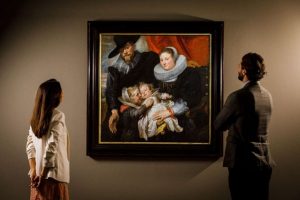 Picture: Sotheby's
A painting by Sir Anthony van Dyck is expected to fetch more than £1.5 million at a London auction.
The portrait of painter Cornelis de Vois, wife Suzanna Cock and two children was recovered from Nazi Germany.
The 17th Century picture was first sold in 1868 to Sir Francis Cook.
It then went to Dutchman Nathan Katz in the 1930s.
However, the Nazis confiscated the picture at the start of WWII.
It was "sold" to Hermann Goering in 1941
It was eventually recovered and returned to the Katz family.
The picture is part of the Sotheby's Old Masters sale.