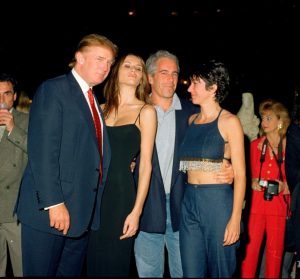 Library picture
Former President Donald Trump feared Ghislaine Maxwell could drag him into the Jeffrey Epstein sex scandal, claims a new book.
Author Michael Wolff said Trump was keen to play down his long friendship with the playboy businessman.
Epstein – a former boyfriend of Maxwell – was found dead in his cell while facing charges of trafficking young girls for sex.
Wolff wrote the arrest of Ms Maxwell worried the ex-President.
He wrote:
"Has she said anything about me?" he wondered.
"Is she going to talk? Will she roll on anybody?" the former president is alleged to have said.
Trump's friendship with Epstein goes back decades.
In a 2002 profile of Epstein in New York magazine, Mr Trump is quoted as saying:
"I've known Jeff for fifteen years. Terrific guy.
'He's a lot of fun to be with.
"It is even said that he likes beautiful women as much as I do, and many of them are on the younger side.
"No doubt about it—Jeffrey enjoys his social life."
He later cut off all connections with Epstein, adding he "was not a fan".
Other high-profile people – including former President Bill Clinton and Prince Andrew – were friends with Epstein.
Clinton admits flying on Epstein's private plane – the "Lolita Express" – but denies going to his paradise island.
Prince Andrew – also a former boyfriend of Ms Maxwell – is said to have slept with a young girl.
He denies the allegation.
Ms Maxwell also denies all charges.
Wolff's book, Landslide: The Final Days of the Trump Presidency, is serialized in The Times.