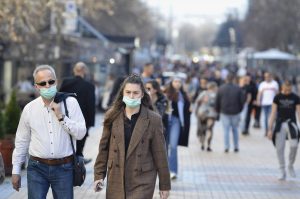 Face masks wearing and social distancing might be ending as part of the Government's plan to ease lockdown restrictions.
The measures could go on "Freedom Day" – July 19th – suggest reports.
Prime Minister Boris Johnson and Health Secretary Sajid Javid have told newspapers there are "compelling" health reasons to lift the curbs.
Mr Javid told The Mail on Sunday:
"The economic arguments for opening up are well known, but for me, the health arguments are equally compelling."
"The pandemic has hit some groups disproportionately hard.
"Rules that we have had to put in place have caused a shocking rise in domestic violence and a terrible impact on so many people's mental health."
The Sunday Times says mask wearing will be voluntary and the one metre-plus rule in hospitality venues will end.
Lifting the distance rule would allow pubs and restaurants to reopen.
Downing Street has confirmed plans to scrap quarantine requirements for those who have had two Covid-19 jabs are under "consideration".