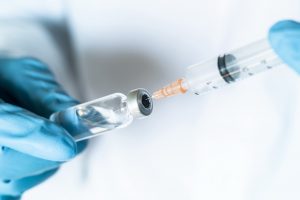 Millions of people most vulnerable to Covid-19 could be given a booster jab from September.
Data watchers will decide if the nation needs a top-up to protect people over the winter months.
The Joint Committee on Vaccination and Immunisation (JCVI) has a priority list for recipients.
The Covid booster will coincide with flu jabs.
Health Secretary Sajid Javid said:
"Our first COVID-19 vaccination programme is restoring freedom in this country, and our booster programme will protect this freedom.
"We are working with the NHS to make sure we can rapidly deliver this programme to maintain protection for people in the winter months."
England's deputy chief medical officer Professor Jonathan Van-Tam said:
"Being able to manage COVID-19 with fewer or no restrictions is now heavily dependent on the continued success of the vaccination programme.
"We want to be on the front foot for COVID-19 booster vaccination to keep the probability of loss of vaccine protection due to waning immunity or variants as low as possible.
"Fewer or no restrictions will mean that other respiratory viruses, particularly flu, will make a comeback and quite possibly be an additional problem this winter, so we will need to ensure protection against flu as well as maintaining protection against COVID-19."
A third booster jab would be offered to the following groups in two stages:
Stage 1
The following people should be offered a third dose COVID-19 booster vaccine and the annual influenza vaccine, as soon as possible from September 2021:
Adults aged 16 years and over who are immunosuppressed
Those living in residential care homes for older adults
All adults aged 70 years or over
Adults aged 16 years and over who are considered clinically extremely vulnerable
Frontline health and social care workers
Stage 2
The following people should be offered a third COVID-19 booster vaccine as soon as practical after Stage 1, with equal emphasis on deployment of the influenza vaccine where eligible:
All adults aged 50 years and over
All adults aged 16 – 49 years who are in an influenza or COVID-19 at-risk group as outlined in the Green Book
Adult household contacts of immunosuppressed individuals