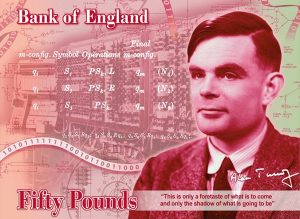 The Bank of England is urging people to use old £50 notes before they are no longer legal tender.
The cotton-paper notes will be phased out and no longer accepted in shops from October 2022.
The new £50 note is made of plastic.
It features Alan Turing – the WWII codebreaker who cracked the German cipher machine Enigma.
If people still have old notes, they can be exchanged at banks and major post offices.
Also, the Bank of England will make the swap.
A Bank of England spokesperson said:
"This £50 note is our most secure banknote yet.
"One in five people still choose cash as their preferred payment method – and we will continue to cater for this demand.
"The simplest way to exchange old notes is to deposit them with your bank."
There are currently 375 million £50 notes in circulation – up from 221 million in 2014.
The £50 note featuring WWII code-breaker Alan Turing was released on June 23rd – his birthday.
The Bank of England Governor Andrew Bailey unveiled the note.
Mr Bailey said: "There's something of the character of a nation in its money and were right to consider and celebrate the people on out banknotes….
"By placing him [Turing] on our new polymer £50 banknote, we are celebrating his achievements, and the values he symbolises."
Turing cracked the Enigma Code at Bletchley Park in Buckinghamshire.
The Nazis thought the code unbreakable.
But Turing and a dedicated team of Britain's cleverest people worked it out, enabling them to read Germany's top-secret messages.
The colossal achievement is thought to have shortened WWII by four years.
Despite his triumph Turing was persecuted for being gay.
He was charged with a homosexual incident in 1952 and underwent chemical castration.
Also, he was barred from working at GCHQ.
He died two years later from cyanide poisoning – probably by his own hand.
After a long campaign by supporters, he was granted a posthumous Royal Pardon in 2013.
Director of GCHQ Jeremy Fleming said the note is a "landmark moment" in history.
He said: "Turing was embraced for his brilliance and persecuted for being
gay.
"His legacy is a reminder of the value of embracing all aspects of diversity, but also the work we still need to do to become truly inclusive."