Former Speaker John Bercow "begged" Labour leader Jeremy Corbyn to help him become a Lord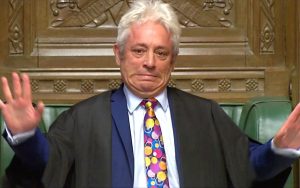 Former Commons Speaker John Bercow asked for Jeremy Corbyn's support for a peerage, emails reveal.
Despite the controversial Mr Bercow vehemently denying he asked for patronage, leaked emails show he even wrote his own reference to go to the Lords.
And he'd secretly met the former Labour leader's team days after the 2019 General Election.
The Times reports Mr Bercow boasted about his four honorary degrees, "no fewer than five shadow ministerial roles", a stint as deputy leader of the Tory group on Lambeth council.
He even included his experience as a tennis coach.
Mr Bercow was seen by many Conservatives as being difficult and obdurate during the Leave-Remain debates in Parliament by "siding" with anti-Brexiters.
In a break from tradition he was not elevated to the Lords when he stood down.
However, Mr Corbyn nominated him for the elevation.
Mr Bercow – who also faced allegations of bullying (strongly denied) – has now joined the Labour Party in a bid to secure a peerage under Sir Keir Starmer
Mr Bercow told Sky's Trevor Phillips On Sunday:
"I've had absolutely no discussion whatsoever, either with Keir Starmer or any other member of the Labour leadership about that matter.
"There has been no barter, no trade, no deal whatsoever."