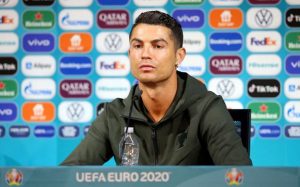 More than £2.8 billion was wiped off the value of Coca-Cola after footballer Christiano Ronaldo appeared to shun the drink at a pre-match press conference.
The star held aloft the Coca-Cola bottle and moved it out of shot from cameras.
He held up a bottle of water and said "aqua" – suggesting it was what people should be drinking.
The gesture saw shares in the fizzy drink company drop by 1.7 per cent – though it later recovered some losses.
Portugal's Ronaldo went on to score two goals in the 3-0 win against Hungary in the Euro 2020 match.
Coca-Cola responded to the footballer's action.
It said: "Everyone is entitled to their drink preferences with different tastes and needs".
A spokesman for the Euro 2020 said:
"Players are offered water, alongside Coca-Cola and Coca-Cola Zero Sugar, on arrival at our press conferences."