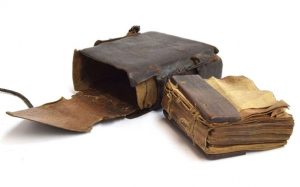 Picture: Busby
An auction house has been asked to return a Bible looted more than 150 years by British soldiers.
The Bible and a set of horn beakers were taken after the Battle of Magdala in Abyssinia (now Ethiopia) in 1868.
The Ethiopian Embassy has asked auctioneers to remove them from auction and return them to their homeland.
The items are of "immense cultural, spiritual and historical value", said the Embassy.
Although worth only £700 they stood for a "small but important piece" of Ethiopian history.
In a statement to the auction house Busby, in Dorset, added:
"The looting of Magdala was a great injustice of the 19th century and remains a scar on the otherwise warm and friendly relations between the people of Ethiopia and the United Kingdom
"The auction of these items is at best unethical, and at worst part of a cycle of dispossession perpetrated by those who would seek to profit from the spoils of war."
Busby said it was talking to the embassy to try to find a solution to the sale scheduled for June 17th.
The items' provenance says they're from the estate of Major-General William Arbuthnot CB (1838-1893) who served in the British expedition to Abyssinia.