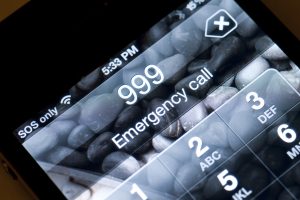 A woman dialled 999 to report that her cleaner had not turned up for work.
And another person rang the emergency service to complain there was no chicken in a shop.
Someone else called out the police because they couldn't face their face cloth.
Since the start of 2021 more than 13,900 calls have been made through the 999 number to the Metropolitan Police in London.
More than 11,525 were not emergencies.
Chief Superintendent David Jackson said:
"Our call handlers were kept minutes on the phone for non-emergency calls.
"This isn't acceptable, these seconds and minutes are precious and could really be the difference between catching a crime in progress or very seriously, a difference between life and death.
"I say this not to dissuade you from contacting us, we are here to protect the public, however I do urge you to think before you dial."
The police advise people should only call 999 if they are in danger, there is a threat to life or a crime is being committed.
A Met spokesperson added:
"If you wish to speak with the police and it is a non-emergency, please call 101 or report online."