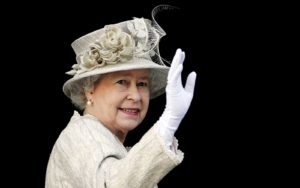 Library picture
A portrait of the Queen has been taken down after students at an Oxford college said it was a "symbol of recent colonial history".
The "offending" picture hung in the middle common room (MCR) of Magdalen College.
MCR students voted to remove the colourised print taken from a 1952 photograph.
It is now in storage.
MCR president Matthew Katzman said: "It has been taken down.
"It was decided to leave the common room neutral.
"That was what this was about.
"The college will have plenty of depictions of various things, but the common room is meant to be a space for all to feel welcome."
However, the decision to take down the picture has angered many.
Education Secretary Gavin Williamson called the move "absurd".
He added: "Oxford University students removing a picture of the Queen is simply absurd.
"She is the Head of State and a symbol of what is best about the United Kingdom.
"During her long reign, she has worked tirelessly to promote British values of tolerance, inclusivity and respect around the world."
Sir John Hayes, chairman of the Common Sense Group of Conservative MPs, said:
"The sad thing is that you would think that the people of Magdalen College Oxford are reasonably bright, and this decision would suggest that they are not.
"The Queen is the head of the Commonwealth and respected across the world as such, and to try to suggest anything otherwise is a dishonest distortion.
"The people involved should be thoroughly ashamed of themselves."