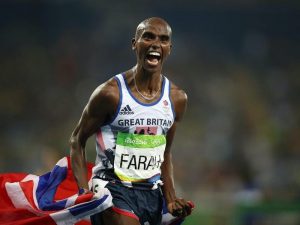 Sir Mo Farah's hopes of Olympic glory have been shredded after he was beaten over 10,000 metres.
He was more than 20 seconds off the qualifying time needed to book a seat to Tokyo.
He later said he was suffering from an ankle injury.
Farah could only clock 27 minutes and 50.54 seconds over the distance.
He needs a time of 27:28 to stand a chance of being a wild card choice to run.
Sir Mo said:
"The last 10 days haven't been great.
"This is the first bit of track I've done.
"It would have been easy not to show but it was important I came out.
"I am four-times Olympic champion but that doesn't mean nothing.
"You've got to go out there each race and give yourself a chance.
"I dug in deep but with 15 laps to go, you know my face, I was hurting hard."
It's ten years since Farah was beaten over 10,000 metres.