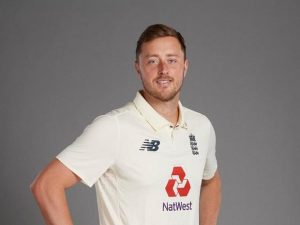 England cricketer Ollie Robinson has been suspended from international games pending an inquiry into racist and sexists tweets he posted.
The fast bowler, who made his debut at Lord's against New Zealand, has also been dropped for the second Test.
He was told after the drawn game.
Robinson – who took seven wickets and hit a valuable 42 runs – will not travel to Birmingham with the England squad.
His ban from international cricket is indefinite though he is free to play for his county Sussex.
The investigation into the tweets will be carried out by the England Wales Cricket Board (ECB).
It is not known when it will report its findings.
Robinson sent the tweets when he was aged 18 and 19 and playing second team cricket.
In the meantime, Robinson will be given anti-racism and unconscious bias training and be involved with ECB projects working with minorities.
Before the start of the Lord's first Test Robinson stood with his England team mates in a "moment of unity" to fight against discrimination.
The ECB was not aware of the tweets until the match had started.
England captain Joe Root said:
"I couldn't believe them [the tweets] personally.
"I did not know how to take them on the surface.
"The most important thing is Ollie is part of this dressing room.
"We have to support him.
"We have to try to do everything we can to learn and understand he has to do better.
"It's not acceptable within our game, we all know that.
"He addressed the dressing room straight away, spoke to media outlets and fronted up to it, showed a lot of remorse.
"You can see from how he has been around the group that it was very genuine.
"And I think it's a great lesson for everyone within our game that we can all do more, and we all have to keep looking to educate ourselves and try to better the environment for everyone."