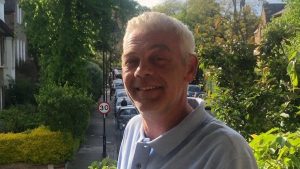 Police investigating the murder of flower seller Tony Eastlake have raided the home of his former girlfriend.
She was found dead at the address two months ago.
An inquest into the death of Alicia Callaghan will be held in a few months.
However, it is believed there were no suspicious circumstances.
Mr Eastlake, 55, was stabbed to death on Essex Road, Islington, north London.
A 20-year-old man has been arrested and is in custody on suspicion of murder.
Detectives searched Ms Callaghan's home hours after Mr Eastlake was killed.
The house is a few hundred from the scene of the knife attack.
Ms Callaghan has a son aged 20 from an earlier relationship.
A Metropolitan Police spokesperson wouldn't comment on the house search.