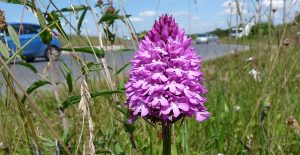 Britain's roadside verges should be used to create a wildlife haven, a new study reports.
More than one per cent of the UK is taken up by verges.
Researchers using Google maps worked out 1000 square miles of grass land could be used for the country's flora and fauna.
Ben Phillips, of the University of Exeter, said:
"There's a lot of road verge in Great Britain and we could manage it much better for nature.
"About a quarter of our road verges are mown very regularly to make them look like garden lawns – this is bad for wildlife."
Mr Phillips, the lead author, added:
"We found that only a quarter of frequently mown verges had trees, so there's potential to add trees and shrubs, which will also help to capture carbon.
"But tree planting must be done carefully to avoid damaging flower-rich grass verges, and to prevent any impacts on visibility for drivers, or damage to infrastructure from roots and branches."
Dr Trevor Dines, botanical specialist at Plantlife, said:
"Our research estimates that if all of the road verges in the United Kingdom were managed for nature, there would be a spectacular 418,88 billion more flowers, or 6,300 per person in the UK.
"If all our verges were managed for nature, we would see an area the size of London, Birmingham, Manchester, Cardiff and Edinburgh combined adorned with wildflowers.
"This surge in pollen and nectar would have a genuinely transformative effect on the prospects of wildlife."
Earlier research has shown that mowing verges less often provides a haven for plants and animals – and it saves local councils money.
It's estimated Britain has lost 97% of its wildlife meadows over the last 90 years.