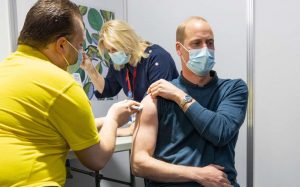 Prince William has been given his first Covid-19 vaccine.
He received the injection from NHS staff at his local vaccination centre – The Science Museum in Kensington.
He later shared a picture on his family's Twitter account.
The Prince, 38, said:
"On Tuesday I received my first dose of the Covid-19 vaccine.
"To all those working on the vaccine rollout – thank you for everything you've done and continue to do."
The Prince, who is left-handed, was given the jab in his right arm
It is not known which vaccination he was given.