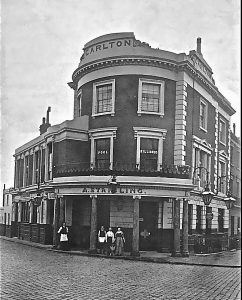 The original Carlton Tavern
A pub that was illegally demolished by developers has been rebuilt brick-by-brick to its former glory.
The Carlton Tavern in Maida Vale, North London, was due to be protected by being made a listed building.
But developers CTLX razed the pub after they had been refused permission to pull it down.
Westminster City Council ordered the company to rebuild the premises exactly as it was.
This week landlord Tom Rees welcomed customers inside for a drink for the first time.
Tom said: "It was a real shame when it got knocked down, but what we're doing is completely different to what the pub was.
"Hopefully, we're still serving the same needs of the community and more of the community than before.
"It's been a huge effort."
Some fixtures and fittings from the original pub were salvaged from the rubble after the demolition.
They have been used in the new design.
The Carlton Tavern is one hundred years old.
It was one of only a handful of buildings near Paddington that survived the Blitz.
It was re-built as a complete replica of the original design by local architect Francis J. Potter.