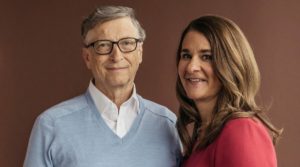 Bill Gates and wife Melinda
Microsoft founder Bill Gates had an office affair 20 years ago, but it ended "amicably".
The liaison played no part in him standing down from the board of Microsoft.
Board members held an inquiry into Gates' affair after receiving a letter from a female employee in 2019.
She alleged she and Gates were lovers over several years.
The Wall Street Journal reported that some members were "concerned" about the claims and wanted Mr Gates to step down while they were examined.
Mr Gates – one of the world's richest men with a fortune of £92 billion – resigned before the investigation could be completed and any decision reached.
He said he wanted to focus on his philanthropic foundation.
A spokeswoman for Mr Gates said, "there was an affair almost 20 years ago which ended amicably".
She added: "The decision to transition off the board was in no way related to this matter.
"In fact, he [Gates] had expressed an interest in spending more time on his philanthropy starting several years earlier."
A Microsoft spokesman said:
"Microsoft received a concern in the latter half of 2019 that Bill Gates sought to initiate an intimate relationship with a company employee in the year 2000."
Bill gates and his wife of 27 years Melinda recently announced they were divorcing.
Ms Gates said the marriage was "irretrievably broken."