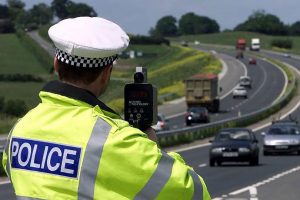 Motorists paid more than £300 million in fines during 2019, figures reveal.
Drivers in Norfolk paid the most with 485,188 committing 106,876 offences.
They paid out £11 million in fines.
Second was Bedfordshire with 77,103 fines from 356,300 people.
Car lease firm Moneyshake analysed data from 43 forces.
It said Norfolk's tally equates "to one in five drivers hit with a fine per year".
Jack Cousens, from the AA, said the lack of motorways in Norfolk might account for its poor driving record.
He said: "It could be that even though they have no motorways they could have a high density of static [speed] cameras.
"They could also have a police force that understands policing the roads is a good thing as you can stop other forms of crime."
Essex drivers received the most fines for careless driving and not wearing a seat belt.
The best-behaved motorists live in Wiltshire, where the equivalent of just 0.5 per cent of the 524,400 vehicles received a fixed penalty notice.