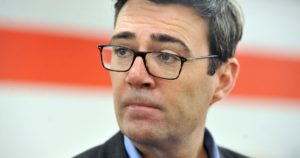 Andy Burnham
Labour has been "too cautious" under the leadership of Sir Keir Starmer – claims former Cabinet Minister Andy Burnham.
Mr Burnham – re-elected as Greater Manchester Mayor in last week's elections – said the party had been punished at the ballot box for its lack of bravery.
He claims Labour should have been clearer and more positive on paying nurses and care workers.
His comments come as some predict Mr Burnham could be a future Labour leader.
However, under Labour Party rules for him to stand he must be an MP.
Mr Burnham told the BBC:
"The problem we have had – there is a caution that stops people putting forward clear policies.
"On nurses pay I thought we should have been clearer about exactly what we thought was the right level of nurses pay coming out the pandemic."
And on rates for care workers, he added:
"That's a Labour issue where we should speak without caution, being really clear that it is just wrong for anyone that looks after people's relatives gets paid less than a real living wage."
Sir Keir has met his shadow cabinet for the first time since losing the Labour stronghold of Hartlepool and a raft of poor results in local elections.
Sir Keir told them there was "something profound about the size of the journey we have to go".
He was said to have told the meeting:
"To be clear, I take responsibility.
"Nobody else.
"I lead the Labour Party and it is entirely on me."