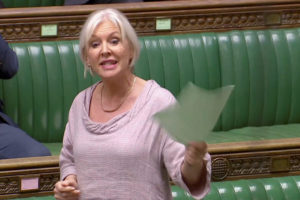 Health Minister Nadine Dorries
Britain's Covid-19 alert level has been lowered from four to three.
The drop will pave the way for an easing of some lockdown restrictions.
The decision to lower the level was taken jointly by all four of Britain's chief medical officers – including England's professor Chris Whitty.
Health Minister Nadine Dorries said:
"I'm hopeful that we will all be hugging and kissing again soon indoors."
Ms Dorries also hinted the next stop on the roadmap to recovery – planned for June 21st – could be brought forward if results and data keep improving.
Prime Minister Boris Johnson chaired a Covid meeting which agreed that indoor dining and drinking at pubs and restaurants could resume on May 17th.
Also, the reopening of cinemas and theatres.